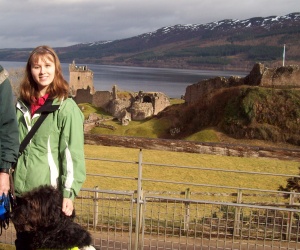 G.L. Morgan is an historical fiction author with a love of Welsh mythology and post-Roman Britain.  Her short story, "Cracks," placed second in Red Tuque Books' Canadian Tales of the Mysterious Contest, and appeared in an anthology of the same name in 2015.  In 2011, "Alec's Girl" placed first at the Scugog Council for the Arts awards.
She is a member of the Historical Novel Society and a past member of the Writers' Community of Durham Region (WCDR).  In 2013, she received the WCDR Len Cullen Scholarship for Advanced Writers.  She later served on the organization's board of directors for two years as the PR Coordinator.
Her work has appeared in a variety of publications, including Allucinor: the Element of Romance, The Word Weaver, Canadian Tales of the Mysterious, and the newsletter of the Cornish Archaeological Society.  When not writing, she can be found playing the harp, rock climbing, spending time with her dog, or trying (again) to teach herself Welsh.