Saturday, May 25, 2013
On Thursday, May 23, Dad and I spent the entire day driving from Llanberis, North Wales, to Edinburgh, Scotland. It was a bit of a shock to find ourselves in a busy city after the relative quiet of the Welsh mountains, but we had fun meeting up with old friends and visiting Edinburgh Castle. It was Dad's first time in Edinburgh, though I'd visited the castle twice and the city three times over the course of the year I spent studying in Aberdeen.   It was a lot of fun to show Dad around.
The Falkirk Wheel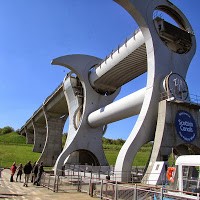 Today, though, we left Edinburgh and drove about 40 minutes north to Falkirk, where we stopped to see the Falkirk Wheel. The Wheel is a rotating lift lock. Trust Dad (who is an avid boater) to find something boat-related 😉 The Wheel is the only rotating lock in the world, and the canals it provides access to are built along the same stretch of ground the Romans used when they constructed the Antonine wall, which we visited next.
The Antonine Wall
The Antonine wall was built in 142 AD as a more northern boundary than Hadrian's Wall. It stretches about 60 miles from the Firth of Forth to the Firth of Clyde. Featuring "fortlets" every mile and a proper fort every eight miles, the Antonine wall consisted of a 40-foot wide, 12-foot deep ditch, a 10-foot tall earthen wall or "counterscarp" and a series of Roman minefields—deep holes studded with sharpened stakes. Until recently, I'm told, it was considered to be the most northern point the Romans settled in Britain, but apparently a new wall has been discovered near Aberdeen, and archaeological investigations are underway. It will be interesting to see what they turn up!
We visited the stretch of the Antonine Wall near Kinneil, just outside Falkirk, where the remains of a fortlet can still be seen, although the wall itself is difficult—and perhaps impossible—to find. A UNESCO World Heritage sign overlooks a shallow ditch in a field adjacent to the fortlet, so we assumed the ditch is all that's left, but neither Dad nor I are archaeologists, so there's no guarantee!
The fortlet would have been home to approximately 30 soldiers, who would have lived in two barracks structures sheltered by 10-foot high earthen walls. Needless to say, with the fortlet being only about 50 paces square, this would have been close and dark living. I don't envy them!
In the evening, we drove down to Linlithco, the little village near our B&B, and took a walk around the loch. It was a beautiful evening, and Dad managed to find some more fishermen to talk to.
Stirling Castle tomorrow!